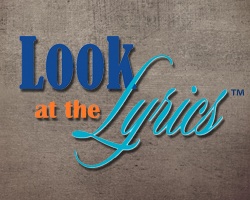 Judy Edwards has been a part of the Christian music industry for over 15 years. She is currently employed by Salem Communications, working in Nashville, TN for their radio station networks and publishing division. She has led small group women's Bible studies, as well as taught children's Bible classes. She and her husband, Thad, reside in Nashville and attend Belmont Church. In their free time they enjoy sailing, traveling, and walking Wally, their rescue golden retriever.

Judy created Look at the Lyrics™ to complement the message of Christian music. This is not a story behind the song.

Portions of song lyrics used are for private, non-commercial use and educational purposes only. Look at the Lyrics™ devotionals do not necessarily reflect the views and opinions of the referenced songwriters or artists.