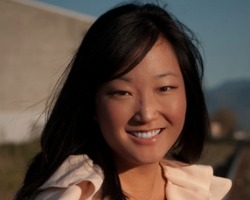 Grace Aspinwall (formerly Grace Cartwright) was just eleven when she went to her first concert. The lights, the sounds, the crowd...it all made an impression on the memory of the eleven year old, and she knew she would somehow be involved in the music industry in the future. At the age of sixteen, she was made Street Team Director for Crosseyed Concerts at its inception. Today, Crosseyed Concerts is Southern Oregon's premiere promotion company, bringing top artists almost monthly, including Skillet, Thousand Foot Krutch, and Sanctus Real, and packing out arenas. During her work with Crosseyed, she also had a six month volunteer coordination position with Innerstar Studios, another booking agency focused on hardcore Christian acts. When Innerstar relocated after 2005, Grace maintained her position with Crosseyed and began doing volunteer coordination as well as publicity.

In 2006, Grace took a position with Christian Music Planet magazine as a freelance music critic, offering her a way to influence the music world through writing. When the magazine went online in 2006, she was given a freelance position at CCM magazine, the nation's largest Christian music magazine, based out of Nashville TN. She became editor of the weekly newsletter, while also writing for HM Mag, cmcentral.com, soul-audio.com, and various other publications on the side. While writing gave her the ability to connect with and critique artists, Grace also turned herattention andexperience towards music publicity and public relations. She founded Wonderment Entertainment in 2009, and currently manages independent artists.

Today, Grace is working as the Social Media coordinator at both Southern Oregon University and CCM Magazine, as well as working as the owner of Wonderment. Her extensive resume, as well as her side position as a music critic, offer her a unique perspective on the inner workings of the industry. After visiting Nashville in 2009 and 2010, she added experience through traveling alongside several artists and seeing multiple tours. She still works publicity for Crosseyed Concerts as well as the Call Ministries, and travels on the weekends to various shows to work with her artists, coordinate volunteers and oversee merchandising. She is married to Drew Aspinwall, a merchandiser and production engineer. She does photography on the side(shooting with a Nikon D200 and Canon Rebel xti), has been a featured blogger, and graduated from Oregon Healthand Science University with her R.N., bachelors of science in Nursing, and double minors in Criminal Justice and Psychology.