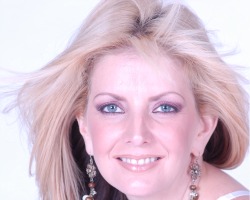 Cindy Cruse Ratcliff, a gifted songwriter and vocal talent second to none, brings with her a fresh, vivacious approach to worship. She began her music and ministry at a very early age. Singing with her family, Cindy was introduced to the recording studio at the young age of 6 years. The Cruse Family, a vibrant, evangelistic ministry of both music and preaching, traveled and ministered across the world. Their music ministry has received two of the Gospel Music Association's coveted Dove Awards.
Cindy became the youngest licensed ASCAP songwriter at the age of 9. At age 19, as a writer, she was nominated by the Gospel Music Association for both Song of the Year and Songwriter of the Year.

In January 2000, Cindy became the Director of Music and Worship at Lakewood Church, the largest congregation in America, under the leadership of Pastor Joel Osteen. She has recorded three live worship albums at Lakewood Church titled "We Speak to Nations," "Cover the Earth" and "Free to Worship". In October of 2006 Cindy recorded a collaborative Christmas CD with The Houston Symphony entitled "The Gift". In 2011, RPM Music, Inc., the record label founded by Cindy and Marcus signed a distribution deal, exclusive to the U.S. and Canada, with UMG CMG/EMI CMG in collaboration with L.A. based Dream Records.

Cindy and the music ministry are broadcast weekly on nationwide television to over 100 million households on numerous major television networks. She is also Director of Music for Joel Osteen Ministries and serves as worship leader to his sold out arena tour, "A Night of Hope." Additionally, she participates in a variety of worship events and community outreach concerts globally.

Cindy resides in Houston, Texas, and is married to Marcus Ratcliff. Cindy and Marcus have three children, Windsor, Merrick, and Emory, whom they consider to be their greatest treasure...