MERCYME — All That Is Within Me
(INO)
File Under: Rock / Rating: 4 Stars
SO LONG, ORDINARY
"We were never meant to compromise/ Settle for mediocrity, " croons frontman Bart Millard on "Goodbye Ordinary." A cursory listen to MercyMe's latest project confirms this is a message the band has taken to heart. After enduring a couple years of personal tragedy that colored its recent albums with a tinge of melancholy,
All That Is Within Me
is, by contrast, an exuberant, defiant, stand-up-and-shake-your-fist-at-the-devil, rock & roll worship album.
"Goodbye Ordinary," with its Beatleesque opening, lush orchestration and in-your-face admonition to "Live like there's no tomorrow," shatters preconceived notions of a band that only makes mellow music. "Time Has Come" employs a thundering, classic rock backdrop to restate the Scripture that "All things work together for good." And the band returns to its praise & worship roots with "You Reign," a tune destined to be covered by youth worship bands all across the country.
"God With Us," a superlative, sixminute marathon, may be the best cut on the album. With plenty of time to sink its teeth into the song, the band delivers more emotion than on any tune since "I Can Only Imagine." Bottom line:
All That Is Within Me
is MercyMe's best work to date.
Review by: MIKE PARKER
GREY HOLIDAY — The Glorious Revolution
(Essential)
File Under: Brit Pop/Alternative Rock / Rating: 4 Stars
BRITISH-INFLUENCED DEBUT SETS BAR HIGH
After grinding it out on the coffeehouse and college scene covering Jars of Clay tunes, Grey Holiday eventually earned the attention of its heroes' original record company. And while the lush acoustics and artful nuances of those "Flood" founders permeate this freshman disc, British influences also abound a la Muse, Bloc Party and Oasis. Yet the band doesn't directly copy any of the above. Instead it wraps "You Belong to Me" over charming pianos and a prayerful glow with just the right amount of orchestration to supplement the worshipful intentions without turning melodramatic. The tension-shifting "Glorious" expands with even more epic tendencies, switching between electric guitars and electronic supplementation.
The group also connects from lyrical planes, particularly on "Where You Want Me," written from the perspective of a 20-something stepping out of college and into life's next uncertain chapter. "Low" switches gears altogether as a calming piano ballad to trace themes of unselfishness and unbreakable friendship bonds. But no matter the listener's age or tempo preference, the reassuring message of God's continuous control is instantly relatable. This album is also unique in that it contains hours upon hours of bonus materials exclusively created by the band members themselves. Given the attention-commanding atmospherics, apparent chemistry and creative ingenuity on this first go-around, Grey Holiday could literally follow in the footsteps of labelmate Leeland as one of the most worthwhile buzz bands in current contexts.
Review by: ANDY ARGYRAKIS
THE GLORIOUS UNSEEN — Tonight the Stars Speak
(Tooth & Nail)
File Under: Post-rock/Worship / Rating: 4 Stars
WORSHIP MUSIC FOR PEOPLE WHO DON'T LIKE WORSHIP MUSIC
In theory, I like worship music. But, I often have trouble connecting with both modern worship and hymns (let alone Southern Gospel). Apparently, I'm not the only one.
Enter The Glorious Unseen. This Nashville-based worship project is what happens when musicians from the indie and hardcore scenes seek to create their own worship music. Singer/guitarist Ben Crist had been leading worship for a small Bible study when a few friends persuaded him to incorporate one of his original songs into the worship set, with favorable results. As the church grew, so did the band; and Crist began to write more songs for worship. Eventually those songs came together as the album Tonight the Stars Speak.
Produced by Steve Hindalong and Marc Byrd (Leeland, Jeremy Camp), Crist & Co. have made a beautiful record that somehow fills the void between Sigur Rós and Pedro the Lion. Lyrically, the album is a call to worship, focusing on encountering God's presence, His greatness, and man's inadequateness and dependence on Him. The music complements the message well, taking cues from ambient and space music, with shimmering electric guitars and huge reverb that create a mood of etherealness and transcendence, but with overdriven amps and drums that keep it from simply fading into the background. Crist's voice ties it all together with an understated confidence that adds to the album's urgency. Tonight the Stars Speak is a different sort of worship album, but it's not different just to be different—there is a definite sense of authenticity here.
Review by: ANDREW SCATES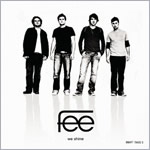 FEE — We Shine
(INO)
File Under: Modern Worship / Rating: 3½ Stars
FOR FANS OF TOMLIN AND DCB
Modern rock worship band Fee has a lengthy, significant history leading up to its major label debut,
We Shine
. Bandleader Steve Fee has been a primary leader in the Passion movement since its inception, and the band serves as artists-in-residence at one of the fastest-growing churches in the nation.
On
We Shine
, Fee introduces 12 original worship songs that demonstrates the band's great ability to blend simple, significant, passionate lyrics to various energetic and appropriate rock sounds. The result is a bit surprising in that the tone from top to bottom resonates with an innate feeling of freedom and victory — from album openers "All Because of Jesus" and "Burn for You" down through "Faithful." Raucous numbers "We Shine" and "Broadcast" translate into jumping crowds, while "Grace Will Be My Song" and "Beautiful the Blood" escalate with powerful confessions to Christ.
Fee and
We Shine
resemble Chris Tomlin or David Crowder Band at times, which, first, shouldn't be surprising considering the Passion connection and similar modern rock leanings, and, second, is not a complete turn-off as Tomlin and DCB are beloved for what they do. Overall, We Shine is worth owning when an upbeat reminder of God's ultimate victory is needed.
Review by: JACKIE A. CHAPMAN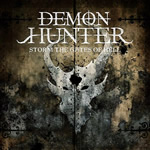 DEMON HUNTER — Storm The Gates of Hell
(Solid State)
File Under: Thrash/Hardcore / Rating: 3½ Stars
HEAVY THUNDER AT THE GATES
The latest onslaught from metal favorite Demon Hunter opens with an explosion of thrash metal thunder and a torrential downpour of screaming vocals, guitars and speed drumming that rivals anything this genre has seen or heard in years. Demon Hunter hits its stride with
Storm the Gates of Hell
, deftly navigating from clear skies to gray, mixing thrash, hardcore and traditional metal alongside melodic hooks and vocals. Amid the mayhem, the sunlight occasionally pokes through the clouds with the accessible modern rock melodies and vocals of the first single, "Fading Away."
Lyrically the band is blatantly overt and unashamed of its spiritual mission, providing some surprisingly positive encouragement to undergo the battle against the forces of evil. "Thorns" talks about Christ's sacrifice for us: "You'll find it in the veil of night where solitude is born/In the emptiness of broken flesh/At the mercy of the thorns." This powerful message whips through crashing waves of melodic hard rock.
Whether or not you prefer the thrash or the rock, the screaming or the singing, Demon Hunter will help listeners weather the storm and light the path to overcome darkness with its best record yet.
Review by: DR. TONY SHORE
PHIL WICKHAM — Cannons
(INO)
File Under: Brit Pop/Rock / Rating: 4 Stars
DELIVERING POETIC JUSTICE
All artists have influences. They reference melodies, licks, song structures and rhythms that have impacted them over the course of their own artistic journeys. For INO recording artist Phil Wickham, the progressive, synth-driven sounds of British pop have clearly struck something within his soul. On his new release,
Cannons
, Wickham uses such atmospheric sonics — also evident on Coldplay, U2 and Travis records — that have taken hold of him to make something completely original.
The tracks are lush, layered, melodic and beautiful. The vocals are supple and delivered with urgency. But the real genius is in the song lyrics. Wickham observes the world with a keen eye for detail. He recognizes God in the ordinary. But he pens it in a way that captures the original inspiration of the divine moment ("Beautiful"). Wickham uses poets' instruments on Cannons: metaphor and simile abound, but it's not off-putting or flowery. The album's gem, "Sailing on a Ship," paints a joyous picture of a seeker, one after God's heart, and the payoff found in knowing Him. Every word illuminates Wickham's desire to lead people to Christ, especially the closing track, "True Love": "Search your hearts/You know you can't deny it/Lose your life so you can find it/The Father gave His only son just to save."
Review by: LIZZA CONNOR BOWEN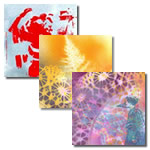 SARAH MASEN — The Sarah Masen EPs
(Independent)
File Under: Folk/Pop/Country / Rating: 4 Stars
MUSIC THAT WORKS
The latest project from singer/songwriter Sarah Masen showcases a maturity she has developed both spiritually and lyrically. Sixteen songs on three EPs:
Magic That Works
,
History of Light and Shadows
and
Women's Work Is Alchemy
comprise her first release in six years. Much like the lyrics, the music throughout takes an insightful journey.
Magic That Works
displays the tradition of a singer/songwriter mingling with the tasteful contrast of electronic percussion to produce laid-back, catchy tunes. Added in, of course, are foundational yet chic flavors of piano and organ. The folk/pop/country essence continues into and throughout
History of Light and Shadows
, which includes the remarkable song "The River." Not one word sung is dormant in explaining the weariness of life being left behind; Masen croons "In the river I'm gone..." Perhaps most surprising are the standout background vocals. With the depth and layers of the Beach Boys and the attentive, catchy melodies of the Beatles, the BGVs are simply delightful.
Sarah Masen's music is purely honest. Her organic approach states that she was made to sing; a listener feels as though she is singing to him/her only. Find the Sarah Masen EPs at myspace.com/sarahmasenmusic
Review by: JONATHAN ISAAC HARMS
OHMEGA WATTS — Watts Happening
(Ubiquity)
File Under: Hip-Hop/Dance/Funk / Rating: 4½ Stars
A TRUE FIND
While on hiatus from Portland, Ore., hip-hop trio Lightheaded, producer/MC Ohmega Watts released his solo debut,
The Find
, in 2005 to rabid critical response. In the face of weighty comparisons to hip-hop legend DJ Pete Rock, Watts has responded with an adventure in classic New York hip-hop, international music and wild imagination. Since he is a talented, visionary producer at heart, Watts is as adept at rugged, sing-song boom-bap ("Roc the Bells," featuring Lightheaded) as he is at hyper-trippy, breakbeat instrumentals ("Freak Out"). With his modern day "Rakimmeets- Kool-Moe-Dee" flow, Watts offers unguarded insights, and Godly, everyman wisdom throughout, including the melancholy, Stereolab flavored track "Gone with the Wind."
As with his debut, Watts elevates vocalists above glorified chorus-hooksinger status. On "Adaptacao" Watts wraps rising talent Tita Lima's lovely Portuguese verses in progressive Brazilian jazz and deep street beats. On the Staple Singers-like funk gem, "Are You Satisfied," Watts features one of James Brown's favorite female vocalists, the perfectly aged Sugarpie Desanto.
Ultimately, for all the cameos and collaborations, Watts' talent is still the star. His melodic ability to blend head-nodding, horn-based funk with international percussion and left-field, bass heavy minimalism (a la iconic hiphop producer J. Dilla) makes
Watts Happening
a sonic feast for the ears, heart and mind.
Review by: ANTHONY BARR-JEFFREY
KIDS IN THE WAY — A Love Hate Masquerade
(Flicker)
File Under: Pop/Rock / Rating: 2½ Stars
HIDDEN GEMS
Current fans of Kids in the Way should be very pleased with the band's latest offering. Returning to form, the band offers another fine collection of straightforward rock songs with pop sensibilities.
Unfortunately, the band may have a difficult time converting new listeners. While it is refreshing to hear a young band that has not jumped on the screamo bandwagon, one cannot help but succumb to a "been there, done that" attitude after listening to the first few songs; the album does not really start getting interesting until halfway through. With songs like "Far From Over" and "Sugar," it is obvious that this is a band that can make great music. However, the album may not hold the average listener's attention long enough for him or her to find these gems.
Although the band is quite adept at writing memorable melodies, it is rarely able to distinguish itself from other artists. At times, it sounds like any number of other teen garage bands. Even the band's name alludes to the sound you are going to hear when you turn your CD player on. That said, most of the songs on this album should translate very well in a live setting, where this band really shines anyway.
Review by: PAUL DURHAM
CONNERSVINE — Connersvine
(INO)
File Under: Acoustic Rock/Contemporary Worship / Rating: 4 Stars
GOING FOR THE TOUCHDOWN
Days after the Indianapolis Colts Superbowl win earlier this year, punter Hunter Smith shifted his focus from athletic pursuits to more artistic ventures in the off season. With Chris Wilson, his songwriting partner of seven years whom he met while leading worship at an Indiana church, Smith entered a recording studio to suss out what would become the group's outstanding self-titled debut.
Wilson, a worship leader/guitarist since his youth, and Smith enlisted producer Pete Kipley (MercyMe, The Afters); and the combination of talents yielded a passionate current of worship. Most songs share a similar pattern of growth: they start spare and end in a lush, climactic, undeniably catchy chorus. All the songs are vertical in nature, save for standout "Hero," which communicates a man's willingness to protect and honor the love of another until he dies. However, the song holds a more weighty message: that one man cannot fulfill the human longing quelled only by God's love.
Most songs on
Connersvine
explore a life lived inside God's will. "Sacred Mystery," one of the album's most radio-friendly tracks, lays out a path of obedience. "Overflow," an up-tempo acoustic track that sounds like it could have been culled from the Caedmon's Call catalog, expresses the joy that comes from walking in faith. Overall,
Connersvine
is a 12-song prayer of intense adoration and praise that will strike a chord in the heart of any contemporary worship fan.
Review by: LIZZA CONNOR BOWEN
MAINSTAY — Become Who You Are
(BEC)
File Under: Pop/Rock / Rating: 3 Stars
RUN-OF-THE-MILL RADIO ROCK STILL INSPIRES
"…All that emotion poured into these songs and became real pathos that people can actually get their hands around," explains Mainstay's Justin Anderson when asked about the songs that make up their sophomore effort,
Become Who You Are
. "It's exciting to me to think that my heartache could be used for someone's encouragement."
Unfortunately for Anderson and the rest of Mainstay, the common human experiences of pain, growth and loss also translate to all-too-common musicianship. "Where Your Heart Belongs," "Island" and "Only One" are determined to further the life of a typical contemporary ballad well into the future, while others like "Believe" come off as remakes of acoustic pop tracks you've yet to hear.
Still it's Anderson's deep yearning that moves the listener into the spirit of the album. Sounding like Seven Day Jesus' Brian McSweeney, "Away from You" and "Stars Are Singing" evoke an appreciation for Mainstay's simple songs of worship and perspective.
"Remember the first time love turned you around," Anderson begs on album closer "Hang On." And by this time, you're inclined to follow suit, look past the formulas used and be inspired.
Review by: MATT CONNER
KHUL RHEMA — What the World Needs Now
(Gozpul/Powwerhouse/Sony/Provident)
File Under: Crunk Hip-Hop / Rating: 3 Stars
MAN ON A MISSION
A mainstay in holy hip-hop circles, Ziklag Boys' original Khul Rhema knows a thing or two about crunk — not the kind championed by Lil' Jon & the Eastside Boyz, but one that aims much higher. On
What the World Needs Now
, his debut as a solo artist, the emcee refuses to back down from his dual stance on Christ and Southernfried hip-hop, allowing both worlds to walk hand-in-hand as if they were always meant for each other.
His hard-line stance on God is only fitting: his moniker stands for "keeper of the word" in ancient Aramaic — the language Jesus spoke — a fact he makes clear to the fullest in tracks like "I Represent Him," a blazing club banger where the rapper spells out his mission statement with unflinching conviction: "I represent Him 'til the day that I die!" These faith declarations are so bold, so outspoken, they can't be complemented with subpar beats. To compensate, Khul Rhema makes sure to marry his entreaties to explosive, bass-heavy rhythmic beds, all of which possess enough low-end and "Yeah!" moments to stand up to the crunk du jour.
This in-studio ferocity is venerable; yet at times, the line between rhythm and rhyme becomes indistinct, leaving listeners to decide whether frenetic romps such as "Praizin' God" — where a vertical lyric and chaotic beat go head-to-head — are meant for the street or the sanctuary.
Review by: ANDREE FARIAS
PLUMB — Blink
(Curb)
File Under: Ethereal Melodic Pop / Rating: 3½ Stars
CREATIVE SHIFT INFLUENCED BY LIFE CHANGES
It's been 10 years since a band called Plumb hit the scene with its electronic-rock-driven self-titled disc that paved the way for future mega-bands Evanescence and Flyleaf. Since 2000, Plumb has gone from being a band to being the stage moniker for lead vocalist-turned-soloist Tiffany Arbuckle Lee, a woman known for pensive lyrical fare and a rich, if not sometimes haunting, soprano voice.
But an even bigger change for Plumb came with her marriage and the subsequent birth of her two sons. The result became
Blink
, a collection of modern pop lullabies and reflective narratives on life as a wife, mother, artist and follower of God.
The voice is the same, but it's much more gentle and subdued — something we've heard in the past but by no means across an entire record. Missing are the driving guitars and pulsating drum programs, instead replaced by ethereal synthesizers and understated electronic rhythms
a la
Dido.
From the tender awe of "My Sweet, My Lovely" and "Solomon's Song" to the fearful recognition of responsibility conveyed in the soothingly crafted "Always," the sonic effect is both compelling and captivating and sets the perfect tone for the complexities of motherly love.
At times, the lack of any up-tempo songs might leave longtime Plumb fans feeling a bit slighted. But with a balanced mix of vocal, instrumental and lyrical beauty — and the realization that this is basically a concept album —
Blink
could very well become a timeless work of art.
Review by: CHAD BONHAM
SPOKEN — Spoken
(Tooth & Nail)
File Under: Alternative/Hard Rock / Rating: 3½ Stars
MOST DIVERSE DISC TO DATE
On Spoken's sixth CD (and third for Tooth & Nail), the group reunites with producer Travis Wyrick (P.O.D., Disciple) to continue its fiery, hard-rock groundwork, while exploding with additional diversity and heavy-handed experimentation. The pair of opening tunes, "History Erased" and "Close Your Eyes," are packed to the brim with raucous vocals, booming guitars and clashing percussion, suggesting that the band means business when it comes to laying down a fierce sonic palette. Though that blazing outlook continues on the striking "Not Soon Forgotten" and later with the metal-minded "Long Live the Dream," there's still plenty of meat in the message.
While some of the aforementioned tracks may be a bit difficult to lyrically decipher, the band members indicate a desire to replace thoughts of despair with hope. Much of those sentiments stem from singer Matt Baird's recent loss of his father, which most directly inspire the poignant (though still aggressive) pinnacle "When Hope Is All You Have." Yet, other emotive reflections such as the forgiveness-filled "Trading in This Troubled Heart," plus the ode to God's ultimate might and majesty "The Answer," further confirm Spoken's spiritual anchoring amidst the instrumental intensity.
Review by: ANDY ARGYRAKIS
MOYA BRENNAN — Signature
(Sparrow)
File Under: Celtic/Adult Alternative / Rating: 4 Stars
OUR STORY SET TO MUSIC
Moya Brennan's musical career began as a teen in 1970 as the voice of the legendary Irish band Clannad. More than three decades later, she has recorded what might possibly be her best solo album.
Signature
finds Brennan at the top of her game, delivering a dozen songs featuring one of the most compelling voices in all of music.
Musically, it overflows with a mix of traditional Celtic sounds and contemporary pop, all with an alternative edge. Lyrically, Brennan bares her soul, revealing a vulnerability both empathetic and instructive. The disc starts strong with the melodic "Purple Haze" and continues developing the theme of seeking joy and hope amid sorrow and hopelessness. In "Hear My Prayer" she echoes the thoughts of many of us when she sings "…bring me through the darkness," yearning to be changed from above and set free.
Signature
is Moya Brennan's story — a peek inside her life, her concerns and her doubts…all grounded in her faith. And for thoughtful listeners, it can be our story, too. This is a beautiful, thematic album that deserves a wide hearing.
Review by: KEN MUELLER
JUMP5 — Hello & Goodbye
(Slanted)
File Under: Pop / Rating: 4 Stars
DISNEY POP ALL GROWN-UP
Long before High School Musical and Disney-mania were sweeping the airwaves, Jump5 was making its debut album. Now, nine years later, the group is calling it quits, ending an illustrious career spanning nearly half its young members' lives.
Hello & Goodbye
features the perky quartet at its peak.
Although it's a farewell album, these teens take the high road, cranking out a stellar set of fresh material (and a Spanish-influenced "Throw Your Hands Up" remix) sure to please even mainstream critics. Both "Fly" and "Shoot the Moon" feature the slick instrumentation and tight harmonies that shot the group to the top of the charts at the forefront of its career. Former member Libby Hodges even joins the band on the cover of the Beatles classic "Hello and Goodbye" (the most risky track), which succeeds by banking on a funky retro guitar sound. "You" is musically smart, though it doesn't stray far from the feel-good lyrics of past albums. Although "I Surrender All" is the sole worship ballad, it artfully contrasts the album's techno beats with a simple, chorded piano background. Overall, Jump5 offers a grown-up version of "tween" pop, leaving its teen audience singing along…and maybe their parents, too.
Review by: GRACE S. CARTWRIGHT
HILLSONG — Saviour King
(Integrity)
File Under: Modern Worship / Rating: 3 Stars
PREDICTABLE FORMULA, BELOVED WORSHIP
A live recording from Hillsong Church is an annual occurrence and this year's installment,
Saviour King
, follows the well-worn path of its predecessors: a set of upbeat tracks followed by a wide swath of soaring worship choruses and ending with a massive anthem.
This formula, though predictable, does set a tone for Hillsong recordings. A sample of the church's brand-new, beloved worship songs for the year,
Saviour King
(as the previous 15 such albums) offers a wide variety of resources that can be appreciated by worship leaders and music fans alike.
Kicking off Saviour King are the unabashed "I'm Not Ashamed" and "Break Free" followed by a set of worship choruses, including the hymnlike "Lord of Lords." The album perks up midway with the crowd participating "To Know Your Name" and the delightful "In the Mystery." Though four more slower songs sound the same, they do carry their own significant messages and lead up to the closing title track, which builds in Hillsong fashion to a satisfying finish.
Hillsong consistently offers solid music from top worship leaders and annually gives the global church good resources, a strength found in
Saviour King
, despite the fact this album's predictability could also be seen as a weakness.
Review by: JACKIE A. CHAPMAN
JEFF CAYLOR — Okay
(Independent)
File Under: Singer/Songwriter/Acoustic Pop / Rating: 3½ Stars
MORE THAN JUST OKAY
New artist Jeff Caylor leaps onto the scene with his independent release,
Okay
. Stylistically, the album dips its toe into several genre pools to complement the subject matter of Caylor's thoughtful, contemporary lyrics. Each genre, however is closely related to the next, effectively creating a common thread throughout.
The pop-centered lead track, "Almost Flew," describes the truth of Christ in a man's heart lifting him up only to realize he's attached to sinful earth (see album cover). Two tracks later, "Pain Is a Megaphone" sounds like a New York City jazz club with an upright bass dancing in rhythm to funky piano. Midway through the record, Caylor finds his urban threads with R&B ballad "Equilibrium."
Wrapping up the album is "I Didn't Think I'd See You Here Today." Caylor and his guitar serenade the listener with a slight country twinge, describing a scene where God shows up unexpectedly.
Having produced the album in addition to writing it and playing the instruments, Caylor wears many hats — very fashionably, I might add. Get a front seat on the Jeff Caylor bandwagon as this enjoyable debut may not be a fluke.
Review by: JONATHAN ISAAC HARMS
TREE 63 — Sunday!
(Inpop)
File Under: Rock/Worship / Rating: 3 Stars
MUSIC FOR EVERY DAY OF THE WEEK
Tree 63, named both for biblical foliage as well as Psalm 63, burst onto the modern worship scene in 2000, giving listeners the radio jewel "Look What You've Done for Me." Along the road to its latest project,
Sunday!
, the band also dominated charts with its celebrated cover of "Blessed Be Your Name" and garnered a Dove Award as well.
Clearly, the attention was not unwarranted, as proven with the title track, an optimistic song with clever lyrical imagery: "Crucified, He will come again/It's Friday, but Sunday is coming." Also, "Walking You Home," a poignant and well-written love letter from God to His children ("Written directions to My home/A promise You'll never be alone/What more could You ever want from Me?"), and "Foolishness" both demonstrate a lyrical sensibility that endeared Tree 63 fans from the beginning.
Frontman John Ellis is vocally excellent. He belts out every song with his infamous Bono-esque tone, but most notably on "Alright," where he is unsullied by electric guitars. Regrettably, the trio really stumbles on "Becoming," where a chaotic and frenzied instrumentation spoils the track, and "The Revolution," which sounds virtually the same. Nonetheless, with Tree's latest disc, listeners will surely find enough gems to carry them from Sunday! clear through the rest of the week.
Review by: GRACE S. CARTWRIGHT
ELEVENTYSEVEN — Galactic Conquest
(Flicker)
File Under: Pop/Punk/Alternative Rock / Rating: 2 Stars
PEPPY AND POPPY, BUT SCATTERED AND LYRICALLY SIMPLE
The cover of eleventyseven's second CD looks like it could be the Beastie Boys dressed up in Daft Punk's clothes, while the goods inside run the gamut of punkish pop, robot rock and electronic pop. At face value, the amalgamation could be truly ingenious, simultaneously pleasing the skaters and clubbers, though the group's sugar-coated sounds and watered-down lyrics lack the full-fledged punch needed to fully land on any level.
The disc starts off on a jumpy note with "Love In Your Arms," but the computer-channeled vocals and youth group-tailored chorus sound somewhat scattered and cheesy. The cool quotient is raised ever so slightly with the quirky keyboards of "Happiness," but overly sunny singing and clichéd phrasing quickly rain out the pulsating parade.
"It's Beautiful" is the disc's most straightforward song as a plain acoustic ballad, but it's a mere formulaic throwaway that sounds even too simple for the High School Musical crowd. While the band clearly has a youthful audience in mind, it's slightly better suited at delivering a meaty message on "Fight to Save Your Life," which talks about finding identity in faith instead of validation from friends or even fame. And while the project has a few more glimpses of saccharine satisfaction (thanks in part to producer Ian Eskelin of All Star United fame), elevenseventy still has plenty of room to develop before a
Galactic Conquest
is even remotely possible.
Review by: ANDY ARGYRAKIS
AUDIO ADRENALINE — Live From Hawaii: The Farewell Concert
(ForeFront)
File Under: Rock / Rating: 4 Stars
A FITTING FAREWELL
Each of Audio Adrenaline's albums has given fans around the world music to live by: songs for driving, sharing and, most importantly, songs for worship. With
Live from Hawaii
, the band gives devotees an album full of more than just music — it's an album overflowing with the heart of Audio A's ministry.
The CD/DVD combination is a must for any aficionado, featuring songs like "Mighty Good Leader," "King" and crowd pleaser "Underdog." Though there are no fresh tracks, viewers will appreciate a no-frills look at the humility and heart of the band. Set against the beauty of Waikiki at dusk, the DVD showcases Audio Adrenaline at its best and is far superior to the CD, which lacks the live energy.
Bolstered by an enthusiastic crowd, Audio A rollicks through a seamless set of songs like "Get Down," "We're a Band" (featuring T-Bone) and the quintessential hit "Big House." They also succeed with the mission-minded "Hands and Feet," in which the band urges believers to serve with "all their lives." Some of the finest moments occur during the moving "Ocean Floor," where guitarist Tyler Burkum's vocals (Think Jason Wade of Lifehouse) contrast nicely with Mark Stuart's fading signature grittiness. Well worth the price of the album, Stuart's emotional farewell during "Goodbye" polishes off a fitting tribute to a deserving band.
Review by: GRACE S. CARTWRIGHT
MANIC DRIVE — Reset & Rewind
(Whiplash Records)
File under: Rock/Metal/Alternative / Rating: 4 Stars
MIX AND MATCH
Following the band's auspicious debut,
Reason for Motion
, Canada's Manic Drive reunites with producer Brian Hardin for
Reset & Rewind
, an engaging sophomore effort that jackets dark but spiritual themes with a fast-and-loose blend of rock, funk, pop, classical, hiphop and R&B. From the opening kick of the fist-pumping anthem "NYC Gangsters" to the plaintive piano-and-strings that close "The Inventor,"
Reset & Rewind
marks a journey of passion, pain and loss in a fallen world — equal parts rock & roll manifesto, hardboiled drama, and desperate plea for God to rescue us from this world.
Songwriter Shawn Cavallo addresses difficult issues with sympathy, from the hopeful ache of "Blue" to the strain of loss in "Eleven Regrets" and "December Mourning." The track "Obvious" confronts Christian posers, while "NYC Gangsters" and "The End" encourage believers to stand up for their beliefs.
Musically, it's a veritable musical smorgasbord, mixing dance grooves with metal guitar riffs ("Blue," with guest vocals from Kevin Max), acoustic guitar with hip-hop flava ("Dancefloor," with guest rapper M.O.C.), and industrial drive with pop choruses ("Obvious"). Throughout, the songs are infused with thick, urgent and sometimes surprising vocal harmonies.
With its second disc, Manic Drive continues to push the boundaries of faith music.
Reset & Rewind
will quickly dismiss questions about any "sophomore slump."
Review by: CHRIS WELL
DUSTIN KENSRUE — Please Come Home
(Equal Vision)
File Under: Acoustic/Folk Rock/Alternative / Rating: 4 Stars
STREET-CORNER TROUBADOUR
Taking something of an artistic vacation from his day job with post-hardcore quartet Thrice, Dustin Kensrue's solo effort,
Please Come Home
, is a surprising bit of folk/alt-rock that has more in common with street-corner troubadours than any Thrice fan could ever expect. Combining acoustic blues, melodic country and classic folk, the artist easily conjures comparisons with a host of singer/songwriters past and present, from Bob Dylan to Ryan Adams.
Lyrically, Kensrue's thoughtful ruminations range from the dark and philosophical to the introspective and tender, all the while holding onto faith, hope and love. The stories within these tracks are populated by real flesh-and-blood people, good and bad, lost and found. Co-produced by Kensrue with Thrice guitarist Teppei Teranishi, the stories are told in a musical style at times stripped down to a lone acoustic guitar, other times bathed in harmonica blasts or organ swirls.
The strength of
Please Come Home
is that, long after any perceived novelty value has worn off, Kensrue proves himself as authentic a singer/songwriter as any in the genre. The album is a solid statement that will have listeners coming back to Home again and again.
Review by: JARROD BARKLEY