Battistelli to Perform Lead Single, "Write Your Story,"

Now No. 1 at Hot AC/CHR and AC, on Fox & Friends This Friday
Nashville, TN – (April 22, 2014) – GRAMMY®-nominated artist and Christian Music's best-selling new artist in 10 years, Francesca Battistelli releases her third studio album,
If We're Honest
, everywhere today. Her two previous albums, debut release
My Paper Heart
and sophomore effort
Hundred More Years
, hit No. 1 on Billboard's Christian Albums chart and garnered Battistelli a GRAMMY® nomination and Dove Awards' 2011 "Artist of the Year" honors. In addition,
My Paper Heart
received RIAA Gold certification marking the only debut album from a CCM artist in 10 years to receive the status. Last Thursday, she also received a Gold record for her second single "Free To Be Me" which spent ten consecutive weeks at No. 1 on CHR and two consecutive weeks at No. 1 on AC Monitored. This Friday, Battistelli will perform the album's lead single, "Write Your Story," No. 1 this week at Hot AC / CHR and AC, on Fox News' "Fox & Friends." Earlier this year she made her national morning TV debut performing it on ABC's "Good Morning America
." Battistelli is also featured on SiriusXM's "The Message: Delivered Live" for a 60-minute special performing songs from If We're Honest for a live studio audience today at 2pm ET and rebroadcast on Saturday at 8am ET and Sunday at 3pm and 9pm ET.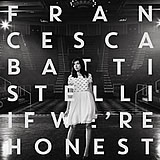 Produced by GRAMMY®-nominated and Dove Award-winning producer and her longtime collaborator Ian Eskelin, If We're Honest reveals her most intimate and accomplished musical statement yet and showcases her trademark pop and soul-infused sound. "This album is a really good reflection of where I am right now," said Battistelli. "My family and I moved back to Nashville in May, and I went right to work writing for this album. From my perspective, it felt like the pressure was off after that famously terrifying second album and all that was happening back then. This time around, I really just let go of all that self-imposed pressure. Somehow I felt as though I didn't have to prove as much, even to myself, and I think that allowed me to do my best work." The 11-track album and 15-track deluxe version of If We're Honest are available everywhere today and on iTunes at http://smarturl.it/ifwerehonest.

If We're Honest has critics applauding:

"Powerhouse singer/songwriter Francesca Battistelli just keeps getting better…it appears the mutli-talented Battistelli has only dug further for this beautiful project. The result is prefection." – CCM Magazine

"If We're Honest, produced by Ian Eskelin, is Francesca's most mature and complete album to date, and my favourite album of the year." – Christian Music Zine

"A must-have, inspiring, and soulful album…If We're Honest, is an uplifting masterpiece that digs deep into Francesca's musical canvas…" – Rockin' God's House

"If We're Honest propels Battistelli to the next level sonically… [It] showcases Battistelli's ability to pen shimmering pop songs filled with relatable lyrics, making Franny feel more like a friend than an award-winning pop songstress." – Living Light News & The Sound Opinion (5/5 Stars)

"The truths imparted on these tracks are vital to our spiritual wellbeing." – Christian Music Review

"In the six years since her debut album, Francesca Battistelli has found her voice. [If We're Honest is] poppy, friendly, and relatable, and a whole lot of fun to listen to." - JesusFreakHideoout

"… an album full of new songs that's certain to skyrocket her popularity even more, to new heights." – Indie Vision Music



If We're Honest track listing:

1. Write Your Story – written by Francesca Battistelli, David Arthur Garcia and Ben Glover
2. When The Crazy Kicks In – written by Francesca Battistelli , Ian Eskelin and Tony Wood
3. He Knows My Name – written by Francesca Battistelli, Mia Fieldes and Seth Mosley
4. Unusual – written by Francesca Battistelli, Ian Eskelin and Tony Wood
5. Choose To Love – written by Francesca Battistelli, Justin Ebach and Tony Wood
6. Run To Jesus – written by Francesca Battistelli, David Arthur Garcia, Ben Glover and Jennifer Schott
7. Find Rest – written by Francesca Battistelli, Jared Anderson and Ian Eskelin
8. If We're Honest – written by Francesca Battistelli, Jeff Pardo and Molly E. Reed
9. Giants Fall – written by Francesca Battistelli, Jeff Pardo and Molly E. Reed
10. Hands Of God (Feat. Matt Hammitt) – written by Francesca Battistelli, Matt Hammitt and Seth Mosley
11. We Are The Kingdom – written by Francesca Battistelli, Casey Brown and Jonathan Smith



Deluxe Edition:

1. Holy Spirit – written by Brian & Katie Torwalt
2. Keeping Score – written by Francesca Battistelli and Ben Glover
3. I Am Home – written by Francesca Battistelli, Ian Eskelin and Tony Wood
4. Tonight (Feat. All Sons & Daughters) – written by Francesca Battistelli, Leslie Jordan and David Leonard



Battistelli just wrapped up the Word Entertainment / LightWorkers Media (Mark Burnett and Roma Downey) partnership "The Bible: Son of God Tour 2014," in association with 20th Century Fox feature film "Son of God" and epic mini-series "The Bible," with Sidewalk Prophets, Natalie Grant, Chris August, Meredith Andrews and Jason Gray. This spring/summer she can be seen throughout the country at numerous fairs and festivals prior to launching a headlining tour in the fall. For further information and a complete list of dates please visit: www.francescamusic.com.

Since her debut in 2008, Francesca Battistelli has earned a GRAMMY® nomination (Best Gospel Performance), six Dove Awards and 22 Dove Award nominations. Both her debut album, My Paper Heart (certified Gold in 2012), and her 2011 sophomore release, Hundred More Years, took the No. 1 spot on Billboard's Christian Album chart. With over 995,000 in album sales to date and over 1.9 million single downloads, she is the best-selling new artist in the genre in the past decade. Her music has also been featured on TriStar Picture's "Soul Surfer," Columbia Picture's "Julie and Julia," TLC's "Jon & Kate Plus 8," ABC's "Extreme Makeover: Home Edition," NBC's "The Biggest Loser," Fox's "So You Think You Can Dance," and several other television and movie outlets. In addition, this past fall she was featured on over three million Diet Pepsi Cans throughout the U.S.

For more information please visit,
www.francescamusic.com
facebook.com/francescabattistelli
Follow:@francescamusic