NEW MUSIC — Hunting for great and spiritually sound music from fresh faces.
COREY CROWDER
This guy is the real deal. His brand of singer/songwriter/country/southern rock is all his own, though he references some legendary influences on his media pages— Bob Dylan, Hank Williams and the Rolling Stones. With thoughtful lyricism, ingenius songwriting and a heart so vibrant you almost feel it pulsing through the speakers on your stereo, I can honestly stamp a prediction of important things in this man's future.
Corey had this to say about his upcoming 2008 release on Tooth & Nail, produced by hit-maker extraordinaire Aaron Sprinkle (Jeremy Camp, Kutless, Hawk Nelson): "It took some growing up, personally and musically, to get to the point where I was ready to present an album like this. I grew up on country music and southern rock, and that is where I feel at home. I have poured my life into this album, and I hope people will feel that when they listen."
Though you have to wait just a little longer to get a hold of this new disc, his past material is worth getting your hands on right away. A special edition of his previous two discs, Starting Over and Learning to Let Go, are both available for modest prices online via myspace.com/coreycrowder. For an uplifting, insightful and worshipful experience, I urge you to check him out right away.
REMOVE THE VEIL
I dig beards, swinging hair and southern riffs. If you do too, Remove the Veil will put a big smile on your face. You can feel the sweat and dirt of their city—Birmingham, Ala.—in each sludgy, down-home moment of their new release, Another Way Home. The thing I love about this southern movement of heavy metal/rock & roll is that it isn't so morose it lacks humor or a sense that the guys behind the tunes wouldn't be a great conversation on your next fishing trip or pit barbecue. This is tongue n' cheek heavy music for those who enjoy a little sugar in their tea or a little Waffle House on a Sunday morning after a heated sermon. myspace.com/removetheveil
THE FAMINE
When ex-Embodyment and Demon Hunter members get together, it is something worth giving a moment of your time to. And if I had to sum up how it makes me feel in one word, I would choose the word macabremassacreness. This is heavy. But it does not sound anything like the current fads. It isn't death metal or experimental or "core" in any way. It is pretty cool…that is, if you like fire, explosions or chainsaws. Did I already mention beards once in this column? Well, these beards are bigger. See mad facial hair and hear the sound of a wrecking ball dance party at myspace.com/thefaminedestroys.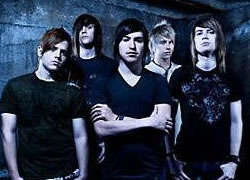 BLESS THE FALL
Phoenix's Bless the Fall is one of a very small number of bands becoming known as the industry elite in underground heavy music. The band's MySpace boasts over 7 million plays. It's known for packing out general market clubs across the nation when headlining, and is about to begin one of the biggest underground tours of the year: the "Taste of Chaos Tour" with Avenged Sevenfold, Atreyu and Bullet For My Valentine. Though Bless The Fall's MySpace profile lists "Healing and Easy Listening" as one of its genres, I doubt most will find anything soothing about the band's sound. Metallic breakdowns and menacing growls contrast with some very interesting singing and harmonizing. Though you may be able to place them in that metalcore/screamo category that is all but a ghost now, Bless The Fall has found a way to make it fresh. Check out the latest record, His Last Walk, studio updates and tour dates at myspace.com/blessthefall.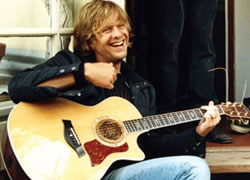 JON FOREMAN
Though I doubt many of you reading this have not heard of Jon Foreman's wildly successful band Switchfoot, it is time for all of you to give an ear to his solo prospects. Jon has engineered an ambitious undertaking as his first solo endeavor, namely four EPs, each titled for its respective season: Fall, Winter, Spring and Summer. This is softer, lighter material than you would expect from Switchfoot—lighthearted at times and quite subtle, with a wide variety of instrumentation. Clarinets, harmonicas—and everything in between—help create an almost fairytale-like atmosphere. I have always thought Jon has an otherworldly voice; he proves it more than ever before on Fall and Winter. (Spring and Summer are coming soon.) You can see his performance schedule and preview/purchase music at jonforeman.com.
SEARCH THE CITY
As recent signees to Tooth & Nail Records, these five Detroitians (pronounced dee TROY shuns) cling to an overpowering pop/rock sound, boasting potent melody and clever instrumentation. Not unlike the Anberlins of the music universe, there is high energy and riffage to lift and drive the vocal prowess here. You can expect their new release, A Fire So Big the Heavens Can See It—produced by James Paul Wisner (Dashboard Confessional, Underoath, The Academy Is)— in April. In the meantime, check out the band's debut EP, Ghosts, at myspace.com/searchthecity.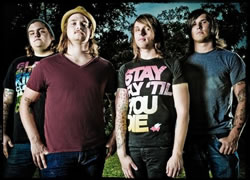 GWEN STACY
Gwen Stacy was Spider-Man's first true love in the original comic book, and one of the most controversial figures in animated lore, tragically killed in an accident with Spider-Man. Not bad at all—as creative band names go. This Indianapolis, Ind., hardcore/metalcore quartet is gaining steam, with a brand-new LP out titled The Life I Know. The band is also finishing up a huge national tour ("The Vs. Tour") with established, crushing comrades Haste the Day, Scary Kids Scaring Kids and Drop Dead Gorgeous. Though it exemplifies what has become known as the classic metalcore blastbeat/breakdown/melodic chorus formula, Gwen Stacy is set apart by a more experimental side. Fans of August Burns Red and Dillinger Escape Plan may find something to grab hold of here. myspace.com/gwenstacy
— Andrew Schwab is the lead vocalist and lyricist for the band Project 86. He is also the author of three books, as well as an independent journalist.